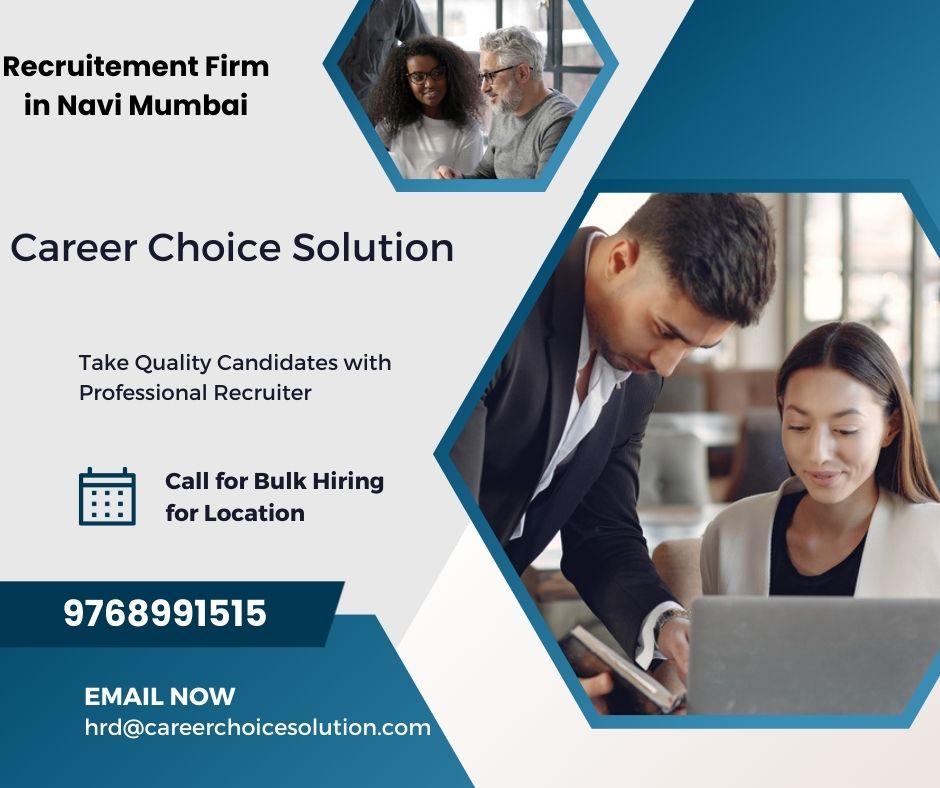 Career Choice Solution is a Leading Recruitment Agency in Mumbai, If the Companies looking staffing solution, Choocing by our Employment agency get the cadidates as per the companies job opening. All Mumbai Recruitment agencies know the competition of hiring the staff to any companies but we are professionaly dealing Recruitment Firm from Mumbai with All types of industies like IT, NON-IT, MANUFACTURING, RUPER, CHEMICAL, HOSPITALITIES, SALES, BPO, KPO, ITES, EXPORT-IMPORT, PHARMA, REAL ESTATE, TOUR TRAVEL ETC, with services are like Recruitment Agency, Job Consultant, Placement consultant, Manpower Agency, Staffing Solution, HR Solution, Manpower Resource.
Our Specialication is with the help of our HR Recruiter team as well as India Top Job portal, we are easy find the staffing solution in Mumbai. We have also 5 years database and different differrent industries expert recruiter for fill the vancies of companies. Our Recruiter scaning the before sceduling the interview of candidates as per companies candidates requirement, We places right position to rignt candidates for growing the companies and job seeker grow.
If the Top Companies Looking for hiring the Bulk Staffing solution in Mumbai, Maharashtra, its very tough to find out the expert recruiter due to competition is very hight, But Career Choice Solution Employment Agency in Mumbai comes with the Better Solution, With the help of our expert Recruiter team and India Top portal as well as from 2017 to till database easily committed to serve the Staffing Solution in Mumbai, Maharashtra as well India and Globaly. We have already experience in top level companies recruiting experince with Bulk hiring like ADITYA BIRLA GROUP, TATA CONSULTANCY SERVICES, ANTHEA, HEALTHCARE AT HOME, KRSNAA DIAGNOSTICS, ORCHID SHIPPING, UltraTech Cement, MEDANTA ets. for more clientels visites our side www.careerchoicesolution.com/clientele.htm
In Mumbai, being a part of top listed Employment Agency firm in Mumbai would be accepted the quality of your search candidates, the use of technology, the ability to interpret the profile and go Portal, Job Consultant firms for find out the best Candidates. By Chooing Career Choice Solution Recruitment firm in Mumbai, Get the best job seekers as per company requirement. Our Recruit team are fill the gap between Companies and Candidate to get the growing oun business.
Our dedicated Recruiter find the qualified and experienced professionals have the insight and knowledge of the industries wise staffing solution from Mumbai. We feel very excited to connect with Top Companies and would like to explore any possible business synergy to find the Recruitment Consultant in Mumbai. Our Employment agency in Mumbai moto is provide the Quality HR Service to any companies for grow companies. Career Choice Solution team well know about the Hiring of staffing solution in Mumbai, We always give the opportunities to companies save the time for follow up the job seeker, scaning the resumes, check the skills and many more, with the help of our recruiter team, Five databas and India top level job portal companies can get the Manpower Agency in Mumbai.
Career Choice Solution is recognized among the trusted Manpower Agency firms in Mumbai-Maharashtra. Being a responsible entity in the placement Agency in Mumbai, we proffer trusted services for Recruitment Consultant, Employment Agency, Placement Consultant, Permanent Staffing, Background verification, HR consultancy and Job Consultant. Every service of ours is delivered by professionals in compliance with industry standards. Besides, we are a HR Solution firm in Mumbai and recruit resources in bulk as per the requirement of the clients. Our efforts have been lauded by several clients that have utilized our services. Drop your query in an email and our consultant will revert.
We also provide the services like Recruitment Consultant in Mumbai, Placement Consultant, Manpower Solution, Staffing Solution, Manpower Outsourcing, Placement Services, Job Consultant, Human Resources Outsourcing, IT Recruitment Consultant, Manufacturing Recruitment Consultant, Sales/Marketing Recruitment Consultant, Export/Import Recruitment Consultant etc.with Mumbai-Maharashtra as well as Globally recruitment firm from Mumbai,Maharashtra.
From Mumbai Recruitment Dealing industries are Transportation, Logistic, Shipping, Marine, Courier, Freight, Cargo, Editors, Journalism, Content, Recruitment Consulting, Staffing Services, Industrial Products, Heavy Machinery, Architecture, Interior Designing, Manufacturing, Production, Quality, Export - Import, Trading, Real Estate, Property,
Construction, Chemicals, Petro Chemical, Plastic, Rubber, Glass etc.
Why Chooce Career Solution:-
How do I choose a career choice?
Use the list below to help you begin that process.
Examine yourself. ...
Reflect on your motivations. ...
Think about your long-term goals. ...
Take different self-assessment tests. ...
Explore sectors. ...
Explore industries. ...
Seek out professional resources. ...
Explore career options on your list.
9768991515
hrd@careerchoicesolution.com
www.careerchoicesolution.com