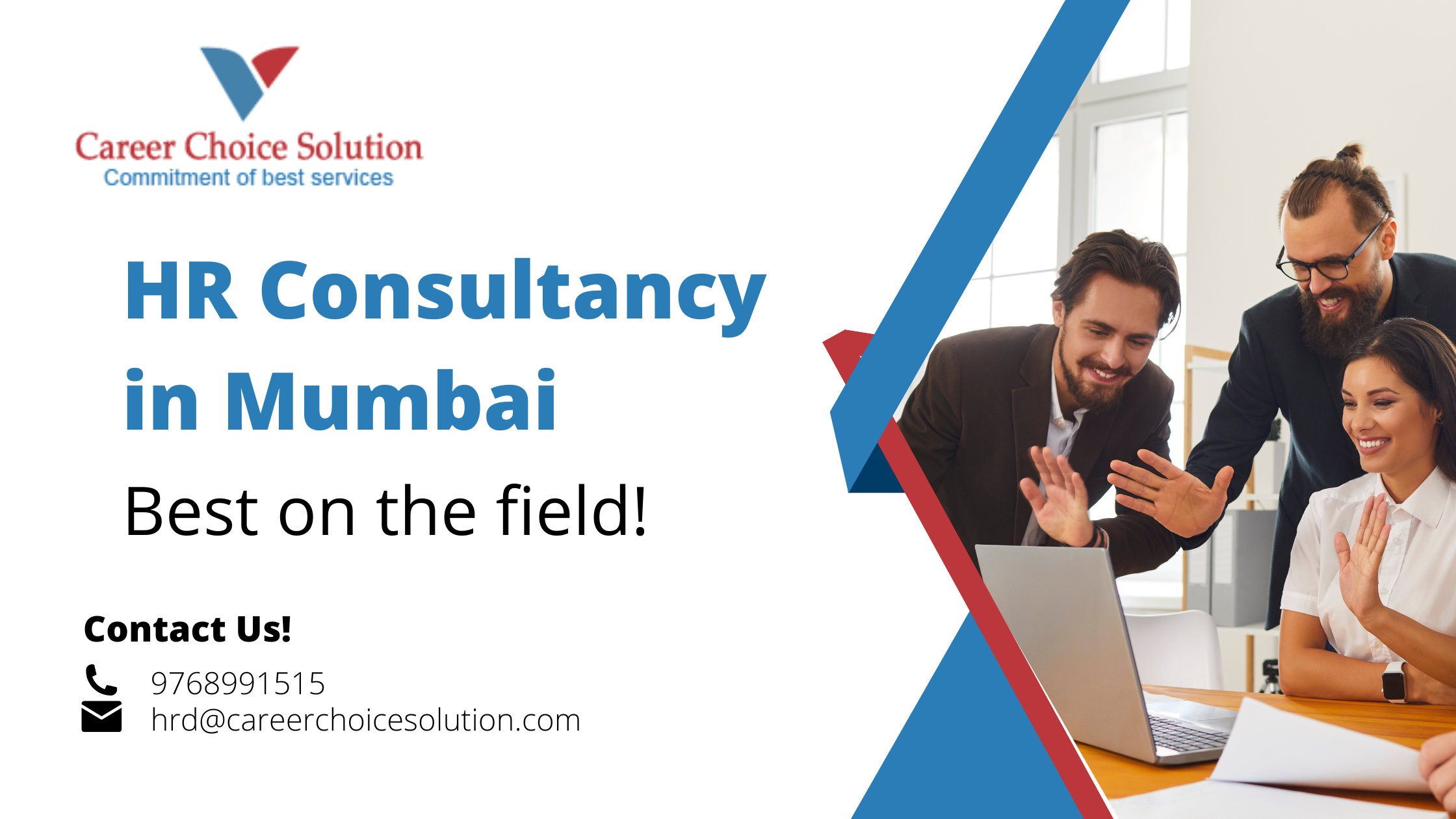 Businesses should concentrate their attention and resources on their core business operations in today's uncertain, fiercely competitive, and constantly changing business environment. However, the role of human resources cannot be disregarded because it is critical to maintain employee motivation, support business culture, and fill organizational skill gaps, all of which have an immediate influence on revenue and sales.
Career Choice Solutions, an HR consultancy firm in Mumbai, works for numerous companies in a variety of sectors and industries. As a result, they are familiar with and have insights into the finest practices to adopt. Talent acquisition, performance management, salary and benefits, labor laws and regulations, and other aspects of the large field of human resources are included.
Your HR team is more likely to consist of generalists than specialists in every related discipline. Therefore, utilising a human resources consultant's skills will help you make wise strategic selections and profit from them.
While some businesses prefer to outsource some HR tasks for convenience, others choose to keep all of their HR operations in-house. An HR consultant is a valuable member of any HR team, whether they are employed inside or externally. The correct candidate may offer a wealth of expertise and a wide range of skill sets to this job, ensuring the efficient day-to-day operation of any firm.
Business owners can get counsel and direction from HR consultancy services in Mumbai, who also make sure that a company's human resources are working in its best interests. They endeavor to guarantee the organization is effectively using its staff to meet its goals while operating at the highest levels of performance and efficiency by developing and implementing customized HR strategies.
What qualities distinguish a competent HR consultant?
A good HR consultant exemplifies the top traits of human capital management. The ultimate objective of this function is to demonstrate the capacity to value and support employees while also providing them with training, management, mentoring, and retention opportunities.

An HR consultant needs to have excellent communication abilities. Communication, understanding, empathy, and problem-solving skills with people at all levels of the organization are essential.

Therefore, if an HR consultant is not skilled at communicating, he or she will not be able to understand the worries, problems, and needs of the various company employees. Furthermore, great communication skills are necessary for the recruitment and selection of candidates.

For this position, having strong people assessment abilities is a must. An HR consultant must be able to evaluate incumbent employees' suitability for their present or potential responsibilities with the organization, as well as the capabilities of prospects during recruiting.

Time management abilities rank among the most important qualities that make a competent HR consultant. It's essential for HR consultants to effectively manage their time so they can finish all assignments on schedule. An HR professional must deal with numerous issues while completing several jobs each day.
A specialized skill set that enables them to adapt to and satisfy the needs of their clients is required of HR consultants. HR consultancy in Mumbai has access to a variety of useful HR technologies, but it's crucial to know when and how to apply each one. Systems for administration and information, evaluations, strategy planning, conflict resolution, and many other things are at your disposal.